Releases: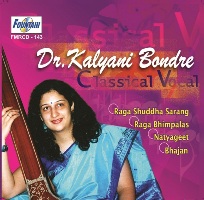 Fountain Music Company presents:
Dr. Kalyani Bondre
Classical Vocal
Ragas: Shuddha Sarang
Bhimpalas
Natyageet
Bhajan
Available at all leading music stores.
Now also buy online on www.fountainmusiccompany.com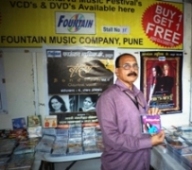 Fountain Music Company's stall at the 60th Sawai Gandharva Bhimsen Mahotsav displaying the CD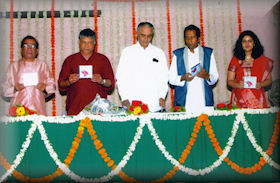 Dr Kalyani's debut album of Hindustani Classical Music was released in Pune at the hands of veteran film and television actor, Shri Vikram Gokhale in November 2006 in Pune.
Padmashree Dr S. B. Mujumdar, President and Founder-Director, Symbiosis Society, presided over the function.
Ustad Usman Khansaheb, Ustad Faiyaaz Hussain Khansaheb, Ustad Anwar Qureshi, legendary actor, the late Shri Chandrakant Gokhale, Smt. Sumantai Kirloskar of the Kirloskar Group, singer Ravi Date, painter Ravi Paranjape, and Sada Dumbare of Sakal Papers, were among the other dignitaries present on the occasion.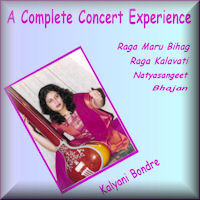 The album titled 'A Complete Concert Experience' captures the essence of a classical music concert in a studio setting. The album opens with a composition in Raga Maru Bihag set to Taal Vilambit Ektaal, 'Rasiya Ho Na Jaa', followed by a fast paced composition in Drut Teentaal, 'Naina Lagaae'. The presentation of the Raga uncovers Kalyani's true musical genius.
Raga Maru Bihag is followed by a Madhyalaya Compostion in Raga Kalavati, set to Taal Teentaal. This composition 'O Banawari Mohe' and the scintillating Taraana which caps it up are both composed by Kalyani's father's Guruji, Ustad Mohammad Hussain Khansaheb. Raga Kalawati is Kalyani's tribute to the late Ustadji.
In the true concert style, Kalyani later turns to semi-classical music, and presents a popular Natyageet in Raga Hamsadhwani, 'Yuvati Mana', which gives the listeners a taste of the bygone golden era of Marathi Natyasangeet.
The album concludes with a well-known Marathi bhajan in Raga Bhimpalas.
Click here to see where the CD is available.