Experiments:



Theme Concerts:
Due to her urge to research, experiment and try out different concepts, Kalyani has come up with different theme concerts which make her performances interesting and entertaining. These are concerts which are based on specific themes or ideas. They have a good deal of research to back them and an informative and interesting narration to keep the flow of the music and the theme together. Kalyani has explored with the themes from Indian mythology and history and presented concerts with classical compositions depicting the storyline. The interweaving of the stories with music takes the listener through a guided tour and a novel experience.
Similarly, the themes from devotional music, the 'Saint Poets' of India and their poetry, the songs of Maharashtra's musical theatre, the music of Maharashtra are some of the other themes Kalyani has worked on.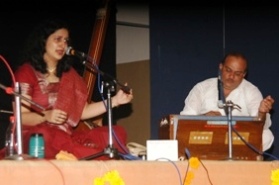 Vocal-Harmonium Jugalbandi:
In addition to these theme based concerts, Kalyani has also experimented with musical combinations and patterns. She has conceived, developed and presented a unique concept of Vocal-Harmonium Jugalbandi (duet). Harmonium accompanying a singer is well-known, but harmonium doing jugalbandi with the singer through the entire concert is unheard of. Kalyani developed this pioneering idea and this novel concert was first presented in Pune in 2010. This was probably the first time in the history of Hindustani classical music that a complete concert of a Jugalbandi between the vocalist and the Harmonium took place. What made the concept even more appealing, was that Kalyani did Jugalbandi not only with the Harmonium, but also with the Tabla. The highlight of the concert was that Kalyani ably presented both, the gayaki ang, as well as the vadan ang.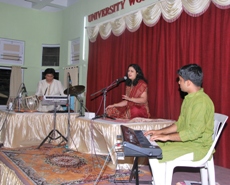 Raga on the Beat:
Kalyani has also envisioned and presented a unique concert 'Raga on the Beat' which is a confluence of various compositions in Indian classical ragas and contemporary Western rhythm and musical styles played on Western instruments. Raga on the Beat is a perfect platform for showcasing her versatility, as it includes almost all types of Raga based compositions like Bandish, Thumri, Ghazal, Tarana, Sufi compositions, and finally classical songs from Hindi films. Raga on the Beat is thus a concert which any and everyone can enjoy, regardless of whether or not one is initiated into classical music. Click here to read Kalyani's blog about this theme.
Compositions:
Dr Kalyani has composed a variety of bandishes in different Ragas. She has composed the lyrics as well as music for these bandishes. She has also composed Taraanas.
She has composed music for dance dramas and short musicals. She has experimented with the themes of these dance dramas by including contemporary subjects like environmental pollution and degradation of natural resources. She has tried to link these concepts with stories from Indian mythology. The music is also a fusion of traditional classical music and contemporary music.