Academic Qualifications: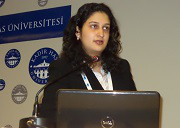 A rare combination of intellect and creativity, Dr Kalyani follows a dual profession as a classical singer and an economist. In addition to her musical excellence, Kalyani has pursued an equally bright academic career. She has completed her Ph.D. in Economics from the University of Pune with an outstanding remark. She also holds a Master's Degree in Personnel Management (a specialized programme in Human Resource Development of the University of Pune) in addition to a Master's Degree in Economics.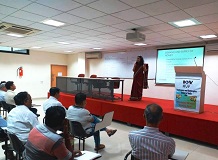 Dr Kalyani had stood first in both, B.A. and M.A. exams in Economics. She was also selected for the National Merit Scholarship of the Government of India, in 2002. She cleared the Maharashtra State Eligibility Test (SET) in Economics, which is mandatory for holding faculty positions in Graduate and Post Graduate Institutions and Universities. She also holds a Diploma in Computer Arts and Publishing from C-DAC, Pune, with A+ grade.


As a result of her passion for teaching, Kalyani worked in Fergusson College, Pune, a 129 year old institute, which has been the flagship of higher education in the city. In her tenure at Fergusson (2004-2007), she taught Economics to graduate and post-graduate students. She has also taught at institutes like Indian Law Society (ILS) and Marathwada Law Colleges (Economics to Law Students), The Institute of Chartered Finance Analysts of India and the Indian Institute of Cost and Management Studies and Research. She is currently working as faculty in Economics and Business Research at the Institute of Management Development and Research. She is also associated as Visiting Faculty at Symbiosis School of Economics.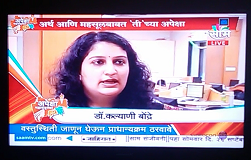 Kalyani has a keen interest in areas like Managerial Economics, Economics of Development, Monetary Economics, International Economics, Business Research Methodology and Qualitative Methodology. She is trained in the Behavioural Event Interview (Critical Incident Method) for assessment of competencies and regularly works as a Panelist and Interviewer for conducting selection interviews at various B-schools. She also regularly works as Paper-Setter and Moderator for Masters in Business Management Exams of the Pune University at INDSEARCH.


Prominent Research Papers, Affiliations and Recognition:
| | |
| --- | --- |
| 1. | Member of the Research and Development Cell of the University Women's Association, affiliated to the International Federation of University Women (2005-06). |
| 2. | Worked on a Project 'Acceptance of Organic Farming and the Human Factor in Development', a report submitted to the State Resource Centre, Government of Maharashtra and Indian Institute of Education, June 2005. |
| 3. | Submitted a paper at the UWA National Conference at Nagpur in September 2005 based on the above mentioned project. |
| 4. | Member of the jury at the All India Economics Students' Summit, organized by Hindu College, University of Delhi (2004, 2005). |
| 5. | Participated in the Centre for Environment Education's International Conference for Education in Sustainable Development held in Ahmedabad in 2005. |
| 6. | Selected as the Honorary Member of the Organic Farming Association of India, Goa, in 2007-08. |
| 7. | Wrote an Article on 'Organic Farming: An Economic Perspective' for the 2007 publication of the Maharashtra Organic Farming Federation. |
| 8. | Co-authored a paper on 'Marketing of Bio-fertilizers' which was selected for presentation at the Rural Marketing conference held at Indian Institute of Management (IIM) Kozhikode in April 2008. |
| 9. | Co-presented a case analysis and won the first prize at the first All-India Case Analysis Competition for Teachers in Business Schools conducted by the Case Research Society of India, Ahmedabad in February 2009. |
| 10. | Worked on a project 'Economic Empowerment of Women: Career and Professional Counselling Courses', as a part of the BRPID programme, UWA Pune (2009). |
| 11. | Her paper on 'Curriculum Design for Sustainable Agricultural Development in India' was presented at the 30th International Federation of University Women (IFUW) Triennial Conference on Education, Empowerment and Development under the Interdisciplinary Seminar, "Education for Sustainable Development", held in Mexico in August 2010. |
| 12. | Actively involved with Arbutus, an NGO working in the field of Sustainable Development, Ecology and Culture. (www.arbutusccc.org) |
| 13. | Presented a paper on "Indian Economics as an Alternative Solution to Global Economic Problems" at the State Level Conference on Global Economic Problems: Causes and Solutions organised by MES Garware College in February 2012. |
| 14. | Presented a paper on 'Gender Equality in Higher Education in India: The Sustainability Paradox' under the seminar 'Gender Inequalities in Education, a Threat to Sustainable Societies' under the theme 'Education and Gender Inequalities' at the Kadir Has University in Istanbul, Turkey from 16th to 21st August 2013. The conference was on 'Education, Urbanization, Violence and Human Rights'. |
| 15. | Completed a Research Project 'Employee Motivation in Financial Sector Companies' with HDFC Securities in September 2013. |
| 16. | Presented a paper on 'A Study of Motivation of Employees in a Financial Sector Company' at the National Conference on Emerging Trends in Management and Research at IMDR in February 2016. |

Click here to read Kalyani's blog 'Of Academics, Economics, Management, and Research' http://drkalyanisworld.blogspot.in/