Live Performances: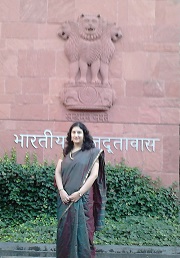 Dr Kalyani has been giving live performances since the age of seven. She has been doing solo concerts for the last decade and has performed at prestigious platforms in India and abroad.
Kalyani had the honour of presenting a solo concert at the Tagore Centre of the Embassy of India, Berlin, Germany in August 2013 in the presence of the Deputy Chief of Mission and other dignitaries of the Ministry of External Affairs, Government of India.
In addition to the following listed concerts, she has a host of joint performances to her credit.
 All India Music Festival, Kolkata
 Sri Aurobindo Ashram, Pondicherry
 Shri Ganesh Jayanti Mahotsav, Shri Siddhivinayak Mandir, Sarasbag
 Atelier 21: Produzentengalerie für globale Kunst, Art Gallery, Aachen, Germany
 Kito, Germany
 Asia Plateau
 Moral Re-armament Centre, Panchgani
 Baalgandharva Sangeet Rasik Mandal
 Naad
 Sanskar Bharati
 Anahat Sangeet Academy
 Sangeet Kala Mandal
 Rangat-Sangat Pratishthan
 Pune-Bremen Cooperation Society
 Naad-Brahma
 University Women's Association
 Shree Dutta Jayanti Mahotsav
 Sneh-samwardhan
 Chinchwad Devasthan and Moraya Gosavi Trust
 Senior Citizen's Association
 Vanjari Vitthal Mandir
 Maharashtra State Forest Department
 Bharat Scouts and Guides
 Pandit Appasaheb Jalgaonkar Harmonium Foundation
 Khalwayan, Ratnagiri, 162nd Sangeet Sabha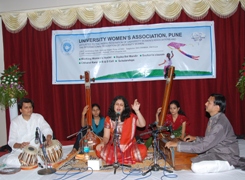 Kalyani's vocal recital was broadcast worldwide on the Wolverhampton City Radio, UK in October 2010, along with a Sarangi recital by Aftab-e-Sarangi Ustad Sabri Khan and a Sarod recital by Aman Ali Khan.