Dr Kalyani Bondre: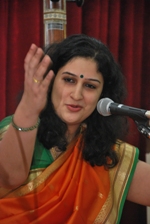 Dr Kalyani Bondre is a new generation classical vocalist with a vibrant, youthful, and original style of singing. Kalyani's first musical impressions were formed in her own home, as both her parents have been exponents of Indian Classical Music. Her mother, Dr Meera Bondre, is the student of well-known sitarist, Ustad Usman Khansaheb of the Beenkar Gharana. Her father, Arwind Bondre, is the disciple of Ustad Mohammad Hussain Khansaheb of the Gwalior Gharana, from whom he learnt vocal music. Khansaheb was the sarangi accompanist of none other than the legendary Natasamrat Baalgandharva, the stalwart of musical theatre in Maharashtra, and hence, Kalyani got authentic Marathi Natyasangeet as a legacy, along with pure Hindustani Classical Music.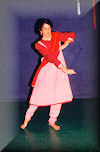 Dr Kalyani started training in Kathak dance under Guru Manisha Sathe, disciple of Natraj Pandit Gopi Krishnaji, at the tender age of six. Simultaneously, she also started taking her first lessons in vocal classical music from Ranjana Bhide, a disciple of the well-known guru, Pandit Gangadharbuwa Pimpalkhare of Pune. Following her natural bent of mind, Kalyani later on exclusively devoted herself to vocal music. However, eight years of disciplined and rigourous training in classical dance gave her a thorough grip on the intricacies of Taal (Rhythm) and that went on to become one of the highlights of her singing.
Dr Kalyani has trained in vocal classical music mainly under Guru Manisha Shrikhande of the Mewati Gharana, who earlier learnt form Leelatai and Vilasrao Khandekar of the Kirana Gharana, and later became a student of Pandit Krishnakant Parekh and Dr Shobha Abhyankar, both disciples of Padmavibhushan Pandit Jasraj. Kalyani has also received guidance in advanced music from Ustad Faiyaaz Hussain Khansaheb and Ustad Usman Khansaheb. Not confining herself to the rigid barriers of any one Gharana, her gayaki encompasses the nuances of different schools of music. She has created her own individual style, blending elements from a variety of sources. She has also learnt the basics of the Sitar.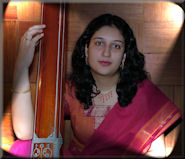 Dr Kalyani has already started establishing her mark as an outstanding talent and has performed at prestigious platforms in India and abroad. Gifted with a rich, melodious voice, which freely flows in all the three octaves, an effortless command of rhythm, clarity of diction, originality, and versatility, she captivates audiences wherever she performs. In addition to pure classical music and natyasangeet, she presents other light forms of music like bhakti sangeet (bhajans, abhangas), bhaav sangeet, ghazals and other forms of contemporary music and Indo-Western fusion music with equal aplomb. Her speciality lies in her detailed and intricate alaaps, which slowly unfold the structure of the Raga, forceful taans, imaginative taan patterns, and electrifying sargams. Her special interest and extensive study of the Tarana, as a separate genre of music, culminated in her developing her original style of presenting this form. She beautifully weaves together the Gayan and Vaadan Shaili (vocal and instrumental styles) of Hindustani classical music in her presentation.


Kalyani has solo albums of classical and semi-classical music to her credit. She also has the honour of being featured in a compilation album 'Ten Artists Ten Ragas' along with some of the greatest names of Hindustani Classical Music. Kalyani's vocal recital was broadcast worldwide on Wolverhampton City Radio, U. K. in October 2010. She is a recognised artiste of All India Radio. She also had the honour of presenting a solo concert at the Tagore Centre of the Embassy of India, Berlin, Germany in August 2013, in the presence of the Deputy Chief of Mission and other dignitaries of the Ministry of External Affairs, Government of India.


Kalyani has received many awards, amongst which, is the prestigious N. K. Firodia Memorial Award for excellence in Hindistani Classical Music in 2001. She was selected for the Rashtriya Gaurav Puraskar by IIFS, New Delhi in 2010 for her 'outstanding performance, meritorious services and remarkable role' in both the fields: Music and Education. Kalyani received the Pune Municipal Corporation Honour for her dedicated service to Hindustani Classical Music on the occasion of India's Republic Day on 26th January 2016, at the hands of the then Honourable Mayor of Pune, Shri Dattatreya Dhankwade, in the presence of the Municipal Commissioner of Pune, Shri Kunal Kumar.


Kalyani has pursued an equally bright academic career and holds Masters Degrees in both, Economics and Human Resource Management and a Ph.D. in Economics from the University of Pune. Her interest in academics and research has been a driving force for her to conduct workshops and lecture-demonstrations to popularise Indian music in India and abroad and write well-researched articles on Indian music for various journals. She also conducts music classes at beginner as well as advanced level students.



Download:



Click here to download profile of Dr Kalyani Bondre.