Dr Kalyani Bondre: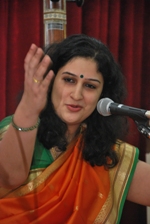 Dr Kalyani Bondre is a well-known Hindustani classical vocalist with a vibrant, youthful, and original style of singing. She has already established her mark as an outstanding talent and has performed at prestigious platforms in India and abroad. Gifted with a rich, melodious voice, which freely flows in all the three octaves, an effortless command of rhythm, clarity of diction, originality, and versatility, she captivates audiences wherever she performs. Her speciality lies in her detailed and intricate alaaps, which slowly unfold the structure of the Raga, forceful taans, imaginative taan patterns, and electrifying sargams. As a testimony of her exceptional versatility, she presents other forms of music like Thumri, Marathi Natyasangeet, Bhakti-Sangeet (bhajans, abhangas), Sugam Sangeet and bhaavgeet, ghazals, Sufi music and other forms of contemporary music and Indo-Western fusion music with equal aplomb. Her fusion performances blend Indian Ragas with Western rhythms which are complementary to the Indian Taal system. She regularly conducts workshops in classical and light music, which explain fundamentals like 'Sur' 'Taal' 'Ragas' etc in a light and entertaining manner. Her special interest and extensive study of the Tarana, culminated in her developing her original style of presenting this form. She beautifully weaves together the Gayan and Vaadan Shaili (vocal and instrumental styles) of Hindustani classical music in her presentation.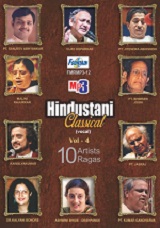 Kalyani has solo albums of classical and semi-classical music to her credit. She also has the honour of being featured in a compilation album 'Ten Artists Ten Ragas' in which she has shared disk space with some of the greatest names of Hindustani Classical Music. She is a recognised artiste of the All India Radio. Her vocal recital was also broadcast worldwide on Wolverhampton City Radio, U. K. in October 2010. She also had the honour of presenting a solo concert at the Tagore Centre of the Embassy of India, Berlin, Germany during the Independence week in August 2013, in the presence of the Deputy Chief of Mission and other dignitaries of the Ministry of External Affairs, Government of India, as also in the All India Music Festival, Kolkata, among others. She has been doing many shows for popularising Indian classical music among the common listeners in India and abroad for the past 15 years and more than 150 videos of her live and recorded performances are available on YouTube.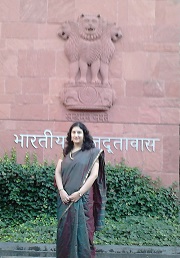 Kalyani received the N. K. Firodia Memorial Award for excellence in Hindistani Classical Music in 2001. She was selected for the Rashtriya Gaurav Puraskar in 2009-2010 for her 'outstanding performance, meritorious services and remarkable role' in both the fields: Music and Education. Kalyani received the Pune Municipal Corporation Honour for her dedicated service to Hindustani Classical Music on the occasion of India's Republic Day on 26th January 2016, at the hands of the then Honourable Mayor of Pune, Shri Dattatreya Dhankwade, in the presence of the Municipal Commissioner of Pune, Shri Kunal Kumar. She has received the Phoenix Leading Lady Award, 2018 for Excellence in Performing Arts: Music at the hands of eminent actress Tabu. She was the among the 16 Leading Ladies from Maharashtra and Gujarat who received the award for their contribution in their respective fields; and the only one from Maharashtra and Gujarat who received the award for Music.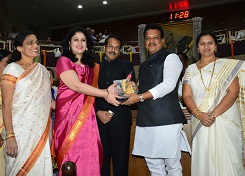 She was interviewed by Rajya Sabha TV of the Parliament of India in the show 'Shakhsiyat', which features renowned classical maestros of India. A documentary 'Saraswati-Nandini' featuring her illustrious career in music and academics has recently been made. She has recently composed and sung Bankim Chandra Chatterjee's 'Vande Mataram' on a new tune in a music video which attempts to showcase elements of Indian music and culture. The music video song is available on all e-platforms like Apple ITunes, Jio music, Gaana.com, Saavn.com, Shemaroo, Music India Online, etc. and its caller tune is available for download for all major mobile service providers including Airtel, Idea, Vodafone, BSNL, etc. The audio-visual footage of one of her live fusion music performances (Raga Malkauns Jazz Style) has been recently used in a short film 'Strictly for the Birds' produced by the Films Division, Ministry of Information and Broadcasting, Government of India.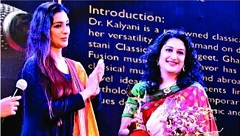 It is her endeavour to demystify Indian classical music and take it to the listeners in a form that they would immediately connect with, proving that classical music can be entertaining and attractive as against common perceptions about it being too complicated and difficult to appreciate. She has come up with novel ideas and experiments which link classical music with some story or theme, mythological and contemporary stories, environmental issues depicted through music and poetry.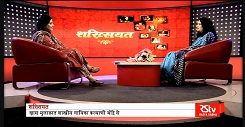 Having taught Research Methodology to MBA students, she has used research principles in Music also. She has published research articles on music in Samakalika Sangeetham, a music journal supported by the Sangeet Natak Akademi, New Delhi and other music and dance magazines. She does shows which explain the science behind music through melodious compositions.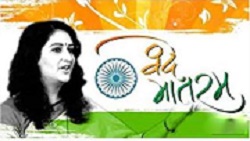 With a social aim to promote Indian music amongst young school and college students, Kalyani organises a competition of music every year under the aegis of Arbutus, an NGO started by her parents for overall personality development and non-formal education for children and the youth. This competition is basically aimed at recognising talent among youngsters and appreciating their efforts. She trains both, beginners and advanced level students in music in regular as well as online sessions.
In addition to her musical career, Kalyani holds a doctorate in Economics and Masterís Degrees in both, Economics, and Personnel Management. She started her teaching career in 2004 as Lecturer of Economics at Fergusson College. She is currently associated as Faculty at IMDR and Symbiosis School of Economics.
Gurus:
Dr. Kalyani's first musical impressions were formed in her own home, as both her parents have been exponents of Indian Classical Music. Her mother, Dr Meera Bondre, is the student of well-known sitarist, Ustad Usman Khansaheb of the Beenkar Gharana. Her father, Arwind Bondre, is the disciple of Ustad Mohammad Hussain Khansaheb of the Gwalior Gharana, from whom he learnt vocal music. Khansaheb was the sarangi accompanist of none other than the legendary Natasamrat Baalgandharva, the stalwart of musical theatre in Maharashtra, and hence, Kalyani got authentic Marathi Natyasangeet as a legacy, along with pure Hindustani Classical Music.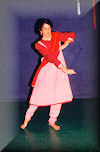 Kalyani started training in Kathak dance under Guru Pandita Maneesha Sathe, disciple of Natraj Pandit Gopi Krishnaji, at the tender age of six. Following her natural bent of mind, Kalyani later on exclusively devoted herself to vocal music. However, eight years of disciplined and rigourous training in classical dance gave her a thorough grip on the intricacies of Taal (Rhythm) and that went on to become one of the highlights of her singing. Kalyani learnt the basics of vocal classical music for a few years from Ranjana Bhide, a disciple of the well-known guru, Pandit Gangadharbuwa Pimpalkhare of Pune.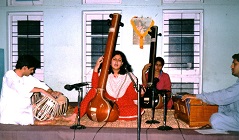 Kalyani has trained in vocal classical music mainly under Guru Manisha Shrikhande of the Mewati Gharana. Manishaji had been a student of Smt. Leelatai and Vilasrao Khandekar of the Kirana Gharana, and later became a disciple of Pandit Krishnakant Parekh and Dr Shobha Abhyankar, both disciples of Padmavibhushan Pandit Jasrajji. Kalyani has also received guidance in advanced music from Ustad Faiyaaz Hussain Khansaheb and Ustad Usman Khansaheb. Not confining herself to the rigid barriers of any one Gharana, her gayaki encompasses the nuances of different schools of music. She has created her own individual style, blending elements from a variety of sources. She has also learnt the basics of the Sitar.